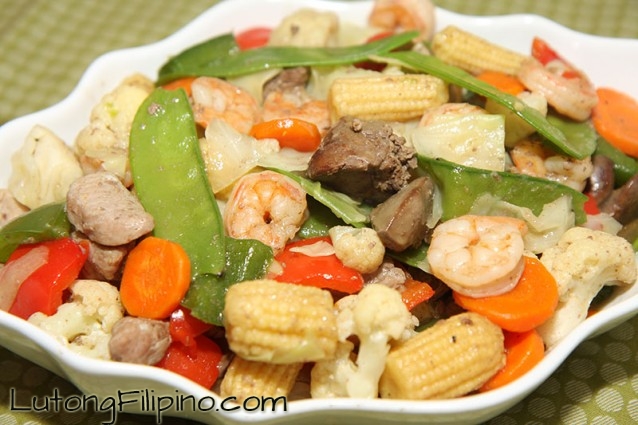 Craving for a vegetable dish? Or are you looking for a nutritious, cheap, easy to prepare and of course delicious food? Then look no further, because here's a dish that would surely satisfy your hunger and makes you wanting for more. It's Chop suey.
Chop suey literally "assorted pieces" in traditional Chinese is a dish that becomes a prominent part of American Chinese, Filipino and other Asian cuisine. It is a mixture of meat (pork, chicken, beef or shrimps) and shredded vegetables such as cabbage, carrots, cauliflower, broccoli and bell peppers bound in a starch-thickened sauce. Others even added mushrooms and quail eggs, mixing all the flavors together. It is even labeled as a "savory mess" according to one translation.
It is commonly believed that this dish is invented by Chinese Americans, however anthropologist E.N. Anderson conclude that it originates from a Chinese cuisine known as "tsap seui" (miscellaneous leftovers), which was first prepared from various leftovers. It had its roots in Toisan, a county in Guangdong Province, where many of the early Chinese immigrants to the US came from. Vegetable farmers from Toisan would stir-fry the thinning and shoots of unsold vegetable approximately ten varieties of vegetables in a dish. Nevertheless, a long list of often conflicting stories on the origin of this dish would emerge and according to the words of a food historian, Alan Davidson, it is typical of popular foods and "a prime example of culinary mythology."
It has been one of the main dishes of Filipino homes because of its cost-effective, easiness in preparation and nutritive value. It is high in calories and fat that would satisfy one's satiety and provide the body with much needed nutrients. However, despite of its high caloric level, this dish can be altered like using chicken instead of pork, adding more vegetables and using less oil. That is why it is perfect as a light meal or even as a diet.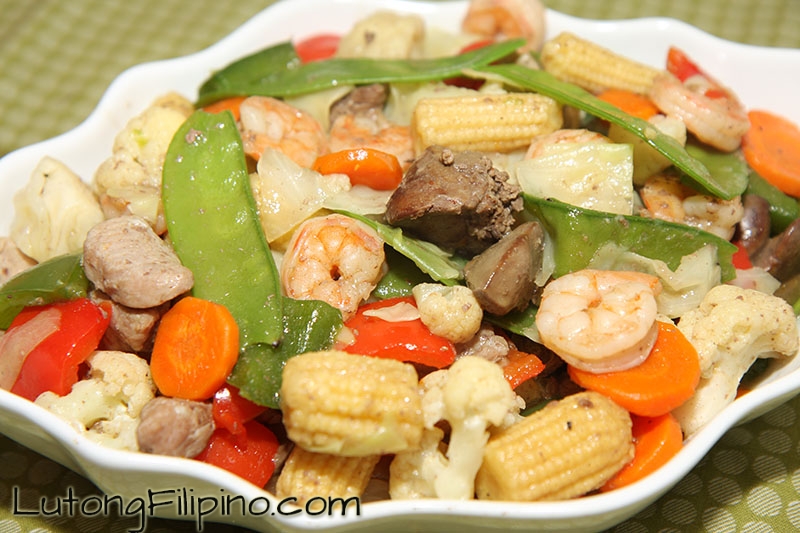 Chop Suey
2014-10-21 15:03:51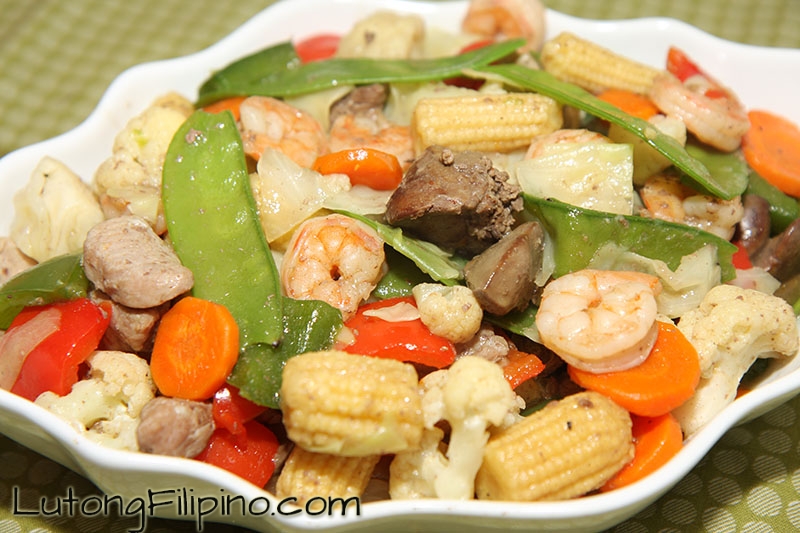 Ingredients
½ lbs pork, sliced into small pieces
4 cloves garlic, diced
1 medium onion, diced
½ lbs chicken liver
1 14 oz. can of chicken stock (broth)
½ lbs shrimp, shelled, deveined
¼ lbs snow peas
½ lbs cauliflower
½ lbs cabbage
½ lbs young corn
1 medium carrot, sliced
1 red bell pepper, cut into small pieces
1 green bell pepper, cut into small pieces
2 tbsp of cornstarch, dissolved in ¼ cup of water
3 tbsp fish sauce
4 tbsp vegetable oil
salt and pepper to taste


Instructions
In a large pan, saute garlic and onion on medium heat
Add pork and cook for 3 minutes
Add chicken liver


Add half the chicken stock and a dash of salt
Simmer for 15 minutes or until pork is cooked


Add shrimp and remaining vegetables


Add remaining chicken stock, fish sauce, and dissolved cornstarch.
Cook for 5-8 minutes, or until vegetables are cooked.


Salt and pepper to taste
Serve hot with rice


Lutong Filipino http://lutongfilipino.com/
Comments