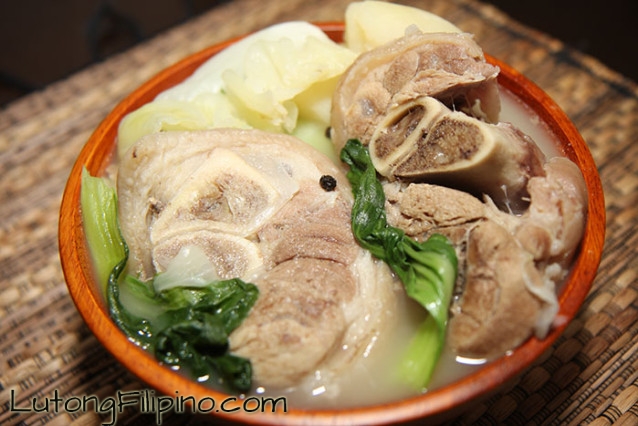 If you have been cooking Filipino dishes for a while, surely you've come across nilagang pata. This simple yet satisfying Filipino dish is one of the popular viands in the Philippines. It is a traditional dish that you can commonly encounter in many homes for lunch and even in small restaurants. It is cooked using pata (pork meat) with the addition of vegetables according to your preferences.
If you want to taste a unique blend of pork meat soup with its spices and vegetables then nilagang pata ng baboy is one of the recommended dishes that you should try. Whether you're learning how to cook Filipino dishes or visiting the country and would want to know which dishes are appetizing especially during lunch and cold season, nilagang pata ng baboy is just the recipe for you.
It can be served for lunch and dinner on ordinary days so you don't have to limit yourself with the appropriate time on when to serve the dish. It is served best with steamed rice and you can use fish sauce or commonly known locally as patis as well as siling labuyo or bird's eye chili as its dip.
Preparing the nilagang pata ng baboy is basically the same as when you're cooking other meat soup in the Philippines. In fact, it is one of the easiest to prepare and cook and serve it in no time to your family, friends and visitors who are around during lunch or dinner. Do you cook to impress? Nilagang pata ng baboy is a simple dish but impressive in its way as well.
With the right pork meat texture and enough time, the taste would be overwhelming even to the seasoned chef. All you have to do is choose a good set of spices and vegetable and you're good to go.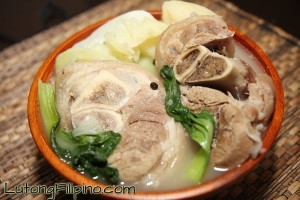 Nilagang Pata ng Baboy
2015-01-15 01:36:02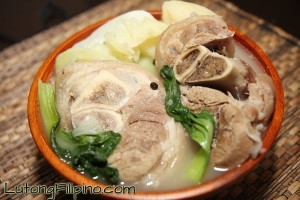 Ingredients
1 pork pata (pork leg) cut into 5-7 pcs
1 cube pork bouillon
1 medium size onion, quartered
1 tbsp whole peppercorns
3 medium potatoes, quartered
1 small cabbage, quartered
2 small bundle bokchoy or pechay, trimmed
2 tbsp fish sauce (patis)
Salt to taste


Instructions
Add pork to a large pot, cover with water and bring to a boil
Let boil for 10 minutes


Pour out the water and rinse off the pork with water
Add new water to the pot and cover pork and bring to a boil
Simmer for 2-3 hours, adding water as necessary
Skim off the scum that rises to the surface
Add bouillon, onion, salt, peppercorn, and potatoes
Simmer for 5-10 more minutes
Add cabbage and bokchoy and cook for 2-3 minutes
Add fish sauce


Serve hot with rice


Lutong Filipino http://lutongfilipino.com/
Comments