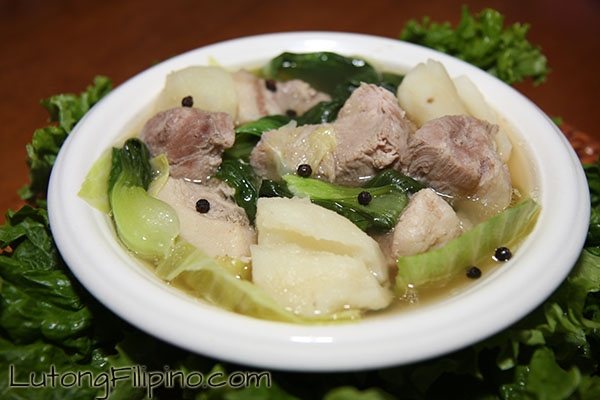 Among the simplest dishes available in the country, Nilagang Baboy is perhaps one of the easiest to prepare yet you can never undermine its pleasant taste. Underestimating what it does to your taste buds will only cause you to miss its very essence.
The only thing you need to do is boil a pot of water, prepare the vegetables and other spices of your preferences and voila! You already have nilagang baboy. This may sound so bland and too direct but even so, as mentioned, you should not underestimate its luscious taste – not to mention the very essence of why you use baboy (pork) as meat. For some, especially those whose cultures would not allow the use of such meat may use a different set of preparation but still using the same process or method and arrive at a unique taste of nilaga.
Nonetheless, in this case, you are using pork meat as the main ingredient. There is no hard and fast rule on what vegetable or spice you want to add to the preparation. However, the most basic ingredient you can find includes onion, peppercorn, potato and cabbage. You can experiment on other ingredients if you prefer but the classic nilagang baboy would have these basic ingredients.
This type of soup is usually served during lunch and even during dinner on regular holidays. It is best serve hot and with dipping the meat on patis (fish sauce) with siling labuyo (bird's eye chili).
If you are looking for Filipino soup to complete your dining experience then nilagang baboy would do the trick!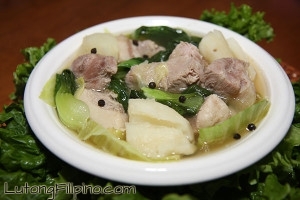 Nilagang Baboy
2014-12-04 15:43:37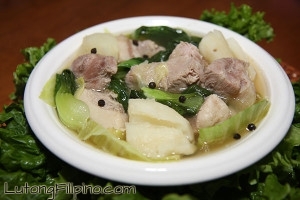 Ingredients
2 lbs pork ribs
8-10 cups of water
1 pork bouillon cube
1 medium size onion, quartered
1 tbsp whole peppercorns
2 potatoes, quartered
1/2 head cabbage, sliced
1 small bundle bokchoy / pechay
1 tablespoon fish sauce (patis)
Salt to taste


Instructions
In a large cooking pot, add pork and water and simmer for 45 minutes or until meat is tender


Remove the foam from the top of the water
Add bouillon, onion, salt, peppercorn, and potatoes


Simmer for 5-10 minutes
Add cabbage and bokchoy and cook for 2-3 minutes


Add fish sauce
Serve hot with rice


Lutong Filipino http://lutongfilipino.com/
Comments