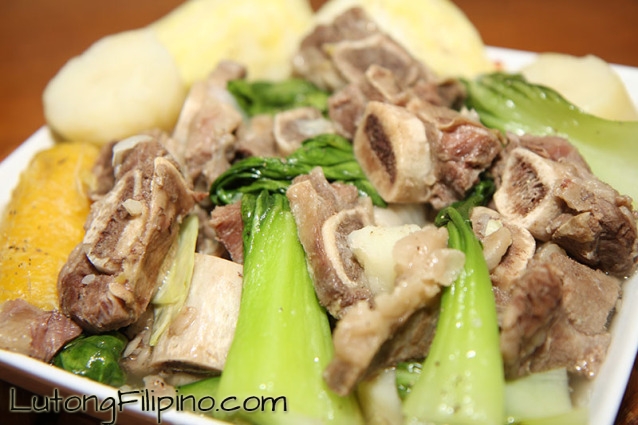 "Good things come to those who wait." This is especially true when you are cooking nilagang baka. The reason is because it would take more time to boil beef and make it softer than any other meat. But, if you have patience and you want to enjoy the gentle beckoning of beef through your sense of smell then nilagang baka would be worth the wait.
As most Filipino dishes, there are many ways that you can prepare nilagang baka. But there is such thing as preferences and you can infuse whatever flavor you want to taste to your soup. Regardless of what spice you want to use, celery, onion and other spices, you will still be able to experience its unique and unforgettable taste.
Nilagang baka can be made more delicious by adding various ingredients such as cabbage, petsay and other ingredients that are esteemed for making a dish more flavorful. You can even add siling labuyo if you want it to taste a little spicy. But then, this depends so much on what your preferred taste. It may be one of the common dishes that you can find in many parts of the Philippines but it is also one of the dishes that are most wanted and most loved because of its delicious taste especially during the rainy season.
Just like other nilaga recipe, nilagang baka is easy to prepare. You only need to boil water and add ingredients one by one depending on how much boiling they need. Of course, you would need to boil the meat first until it is tender enough so that you can achieve the best possible taste.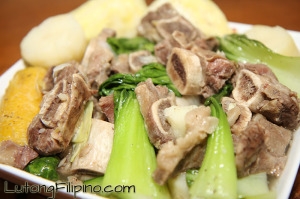 Nilagang Baka
2014-12-23 03:12:04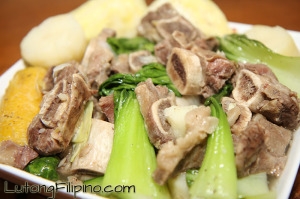 Ingredients
2 lbs beef short ribs
2 liters of water
1 large size onion, halved
2 cubes beef bouillon
3 pcs saba banana or plantain banana
5 potatoes, quartered
2 tablespoons fish sauce (Patis)
1 small cabbage, quartered
2 bunches baby bok choy (Pechay)
Salt and pepper to taste


Instructions
In a cooking pot, add beef and water and bring to a boil
Simmer for 10 minutes. While simmering, remove dirty foam with a spoon.
Add onions. Cover and simmer for 1 ½ hours or until beef is tender.


Add beef cubes, banana, and potatoes and simmer until cooked


Add fish sauce, cabbage and pechay


Cover and simmer for 2 minutes
Add Salt and pepper to taste
Serve hot with rice


Lutong Filipino http://lutongfilipino.com/
Comments