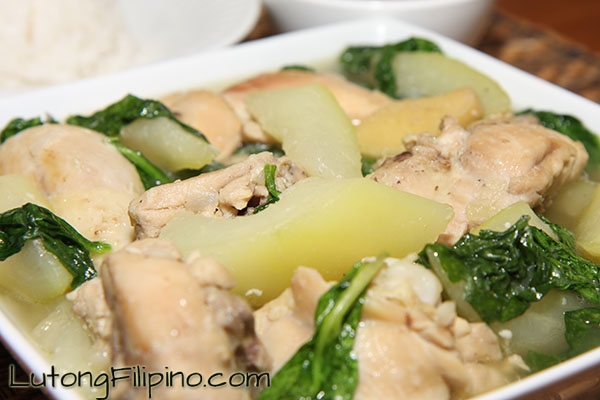 Are you feeling ill or down in the dumps? Looking for the good old chicken noodle soup to revitalize your body? Well, the Philippines has its own version of chicken soup, known to all Filipino as Tinolang Manok. It is a famous Filipino comfort food that is simple to prepare, soothing and delicious.
Tinolang Manok or simply called "Tinola" in Tagalog and Cebuano is a chicken ginger stew soup mixed with "siling labuyo" (chili pepper leaves) and green or unripe papaya. It is also called "nilayaan" or "la uya" in Ilocano, which literally means "ginger." The ginger and the chili pepper leaves make for its distinct flavor.
Customarily, the dish is prepared by sautéing the garlic, ginger and onion, followed by the "manok" (chicken) and then flavored with fish sauce. It is recommended to cook the mixture about 4-5 minutes to allow all the flavor of the ginger, fish sauce and chicken to blend well. Chicken broth is added and finished by adding chili pepper leaves and green papaya. "Native" or free range chickens are the best chicken to use and the green papaya facilitates in tenderizing the meat of the native chicken. This dish can be an appetizer or the main entree and best paired with rice.
Other common variants of the dish makes use of the chayote squash as a substitute for the unripe papaya; instead of using the chili pepper leaves, others may use malunggay (moringa) leaves or spinach, especially when living abroad; and to an extreme case, others use seafood or pork instead of using chicken.
Truly, Tinolang Manok has made its place in many Filipino household as one of its well-loved dishes.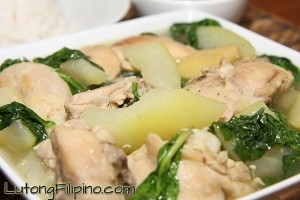 Chicken Tinola
2014-10-21 14:58:40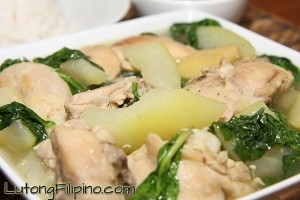 Ingredients
2 lbs chicken, cut into pieces (I like legs and thighs)
1 small raw green papaya
2 tbsp vegetable oil
3 cloves garlic, minced
1 medium onion, sliced
3 teaspoon ginger, thinly sliced
3 tbsp. fish sauce
4-5 cups water
salt and pepper to taste
1 bunch spinach, cut into 3-inch pieces


Instructions
Peel papaya and cut lengthwise into 4-6 pieces. Remove papaya seeds and slice diagonally ½ inch thick. Set aside.
In a large pot, heat oil on medium and saute garlic until brown


Add onion and ginger, and stir
Add chicken pieces and fish sauce, and cook for 3 minutes


Add water and let boil
Once boiling, lower heat and let simmer for 25-30 minutes.


Add papaya and continue cooking for 8-10 minutes or until papaya is cooked
Add salt and pepper to taste
Turn off heat and add spinach and cover for 1-2 minutes


Serve hot


Lutong Filipino http://lutongfilipino.com/
Comments