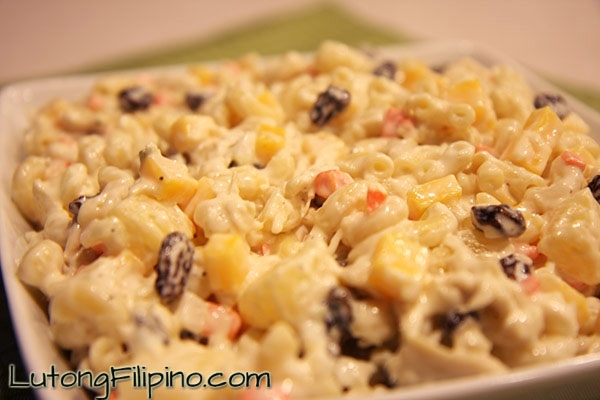 The Chicken Macaroni Salad – Filipino style – is just one of the many recipes or dishes that we have adapted from the west, which we have made our own by adding some twist to the classic recipe. Such twist in this case is the addition of flavor and flair such as shredded chicken, cubed cheese and/or ham, raisins and even pineapple cuts.
If you want to make a very special dessert but don't know what to prepare, the chicken macaroni salad – Filipino version – will surely make you crave for some more.
On its own, the dish is probably not as unique but with Filipino flair – this is the tastiest and the most delicious dessert you could ever want. It is also healthy and packed with nutrients – enough to last you for the day. The caloric intake doesn't make you go beyond the usual unless you're eating a whole plate alone.
That fact aside, the chicken macaroni salad is something more than just your ordinary macaroni salad, which is often served as side dish. This version can be served entirely as a separate dish for dessert especially during parties and gatherings of family and friends. It's creamy, a bit sweet and a bit sour combination is something to look forward to.
The taste is owed to the fact that it has three main ingredients namely – shredded chicken, macaroni and mayonnaise with a little spice and flair in some versions. However, the taste could vary from region to region and could vary further individually. This is something that will keep you up on your toes as you anticipate how delicious this dessert really is.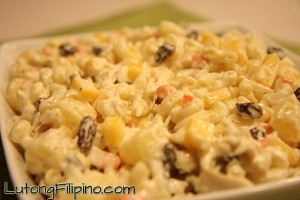 Chicken Macaroni Salad
2014-10-21 14:53:57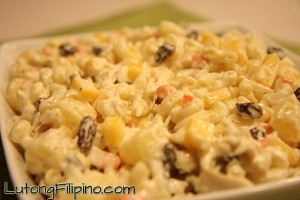 Ingredients
2 cups macaroni pasta
3/4 cup mayonnaise
3 tbsp onion, chopped
1 1/2 cup cooked chicken breast, shredded
1/3 cup carrots, chopped
1/2 cup cheddar cheese, cubed
1 cup pineapple chunks
1/2 cup raisins
2 1/2 tbsp condensed milk
1 tbsp pickle relish
Salt and pepper to taste


Instructions
In salted, boiling water, pour in macaroni and cook. Drain under cold water.
Mix all the ingredients together in a large bowl until it is evenly distributed.
Chill in refrigerator for 30 minutes.
Serve cold.


Lutong Filipino http://lutongfilipino.com/
Comments