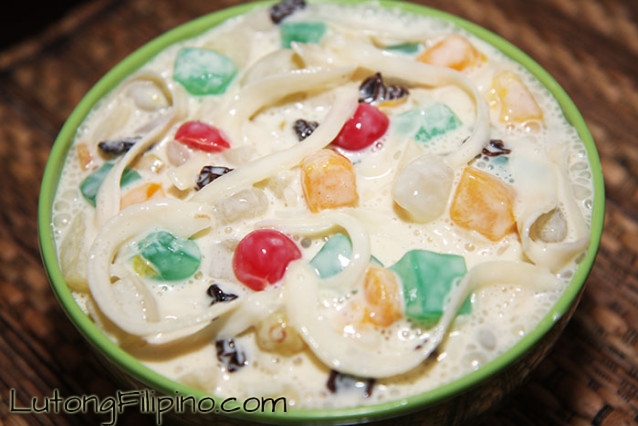 Every household in the Philippines has their own way of preparing buko salad – a delicious concoction for dessert. In most cases, it is prepared with canned fruits, cream, sweetened milk and young coconut (shredded) to complete the equation. However, you can also add other ingredients such as kernels and cubed cheese. The ingredients actually just depend on your preferences and it will still taste overwhelmingly delicious.
If you are the type who just loves sweets, you should try buko salad and be captivated by this delicious dessert with shredded young coconut as its primary ingredient. It is one of the desserts you can find in many special occasions in the Philippines and common served during fiestas, holidays and birthday parties.
This dessert is very simple and easy to prepare. You only have to combine the different ingredients and add the cream and sweetened milk and you're done. It is best served when it has already stayed in the fridge to cool it up before serving.
You can actually experiment on the ingredients that you want to add just as long as it will still result to practically the same dessert preparation.
This dessert is very versatile in the sense that you can get to add what you think would make the taste more delicious and mouth-watering. So, if you are inclined to love sweets but do not want the common cakes, cookies and other desserts, you might want to try preparing buko salad for the family, friends and visitors and impress them without too much effort in the process.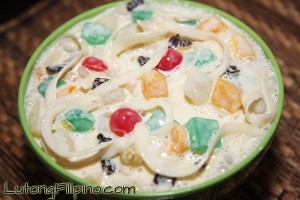 Buko Salad
2015-01-15 01:49:07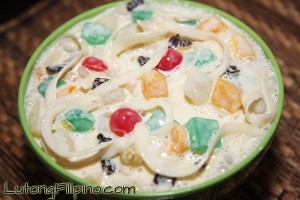 Ingredients
4 cups young coconut, shredded
1 (12 oz) jar sugar palm fruit (kaong)
1 (12 oz) jar coconut gel (nata de coco)
30 oz fruit cocktail
1 (12 oz) can pineapple chunks
¾ cup raisins
1 (14 oz) can sweetened condensed milk
2 (7.5 oz) can table cream


Instructions
In a strainer, drain the young coconut, fruit cocktail, pineapple, sugar palm, and coconut gel individually
Combine them together into a large mixing bowl and stir until well mixed
Stir in raisins


Add sweetened condensed milk and table cream and mix well


Refrigerate mixture for 3 hours, or put in a freezer for 1 hour
Serve cold


Lutong Filipino http://lutongfilipino.com/
Comments