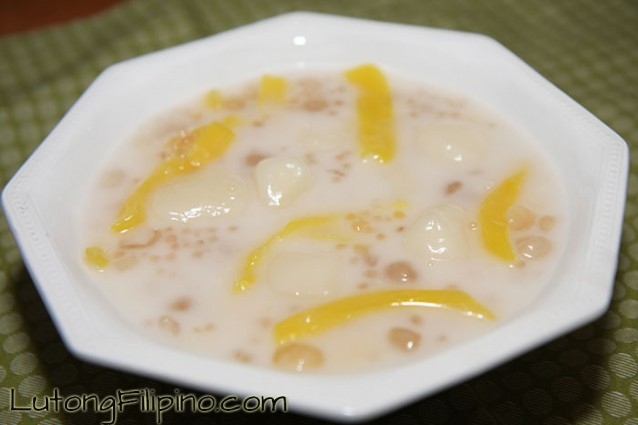 Ginataang Bilo Bilo is a famous Filipino dish from all over the Philippines. This soft, chewy bilo bilo – or sticky rice is usually served in the afternoon as a delicious snack and is loved by all Filipinos – both the young and young at heart.
It is best eaten freshly cooked and warm while bilo bilo is still at its best – pillow soft and tasty. It is a sweet snack, which is added with Gata or coconut milk along with other ingredients such as saging na saba or Cardava banana, sago or Tapioca pearls, bilo bilo or sticky glutinous rice balls and langka or jackfruit. However, there are recipes that does not include jackfruit as part of the ingredients. It depends on how you wanted the flavor for the dish.
Ginataang bilo bilo is a snack that is similar to ginataang halo-halo, which is otherwise known as binignit – only this time it is a simplified version.
It is fairly easy to prepare ginataang bilo bilo and to cook it as long as you have the ingredients ready. The process is easy to understand and will only require a little time for boiling, stirring and mixing – other than that there is really nothing too complex that anyone cannot do. Once the process is done, you would have your tasty and delicious Filipino snack soon enough.
But, a word of caution: be careful when you're eating it especially once it is off the cooking fire. It may look like it has already cooled off but actually it is still too hot for your mouth to handle.
Nonetheless, this delicious snack is an all-time favorite from all regions in the archipelago.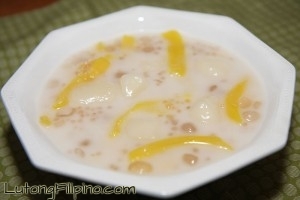 Ginataang Bilo Bilo
2014-11-11 00:42:04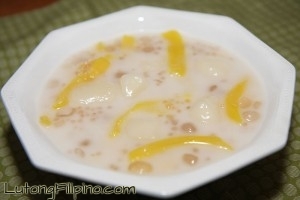 Ingredients
1/2 cup water
1 cup glutinous rice flour
2 cups water
1 13.5 oz coconut milk
1 cup granulated white sugar
1 can ripe jackfruit
2 cups cooked sago


Instructions
Mix together glutinous rice flour and water in a bowl


Scoop about 2 teaspoons of the flour mixture and roll into a ball. (You can put oil in your hands to keep it from sticking)
Place the flour balls on a flat surface and set aside


Boil water in a cooking pot
Add coconut milk and boil again
Stir in sugar
Add the jackfruit and cook for 15 minutes on low heat
Add the flour balls
Cook for 15 more minutes stirring occasionally
Add sago and cook for 6 minutes


Serve warm


Lutong Filipino http://lutongfilipino.com/
Comments