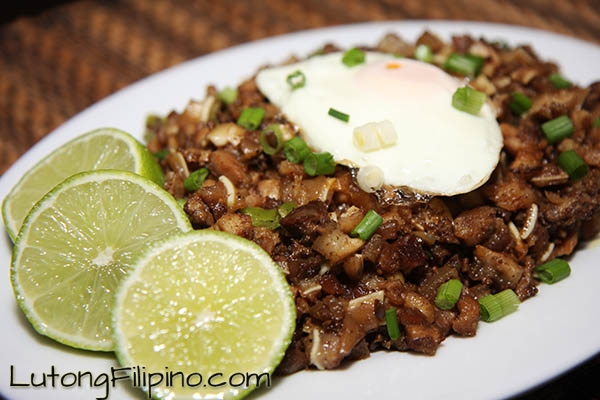 Sisig translates to "snack on something sour" in Kapampangan. The dish originates from locals who bought pig heads from agents of the Clark Air Base. Pig heads weren't used to prepare food for the Air Force personnel stationed there. The late Lucinda Cunanan is famously referred to as Aling Lucing-the Sisig Queen for pioneering the dish. Today, Pampanga is championed as being the culinary capital of the Philippines.
Pork Sisig is now a renowned dish served all over the world. Hundreds of variations have turned the dish into a household favorite. Pork sisig was usually served as an appetizer or a snack before meals. A few more ingredients and you have a full course meal. Add a tortilla or a crunchy shell and you have sisig tacos.
The process of cooking and preparing sisig takes some time. Furthermore, the history behind sisig and what represents it to Filipino culture is beautifully symbolized on the plate. The time is worth it! A healthier rendition is seafood oriented. Instead of the pork head, a medley of mussels, tuna, milkfish and squid with mayonnaise can be served. Oxbrains, chicken, and tofu are frequently used too. Tofu is an excellent substitute for a vegetarian adaption.
Pork sisig is popular in bars and restaurants across the Philippines. Many claim that it tastes excellent with a cold beer. Another companion of the savory dish is steamed white rice. Apparently, this not only brightens up the dish, but the flavors are concentrated. The crispy pork skin sizzling with the tender marinated, meat gives off a tangy taste and vivid aroma.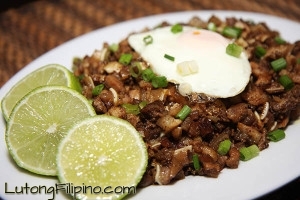 Pork Sisig
2015-05-29 19:43:50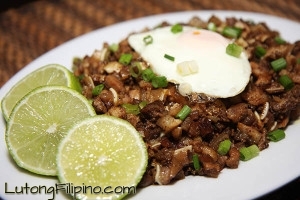 Serves 4
Ingredients
1 1/2 lbs pig ears
2 lbs pork belly
1 medium onion, minced
4 tbsp soy sauce
¼ tsp ground black pepper
1 small ginger, minced
2 small green chilis, chopped
½ tsp garlic powder
1 lime
6 tbsp butter
1/2 lbs chicken liver
8 cups water
5 tbsp mayonnaise
1 1/2 tsp salt


Instructions
Add water into a cooking pot, add salt and pepper, and bring to a boil
Add pig ears and pork belly and simmer for 1 hour


Remove pig ears and pork belly and dry with a paper towel
Grill both sides of pig ears and pork belly until brown


Chop into small pieces


In a separate pan, melt butter, add onions and cook until soft
Add ginger and cook for 3 minutes


Add chicken liver and crush while cooking
Add chopped pig ears and pork belly and cook for 15 minutes


Add soy sauce, chilis, and garlic powder and mix


Add more salt and pepper to taste
Add mayonnaise and mix well
Move to plate and serve


Lutong Filipino http://lutongfilipino.com/
Comments