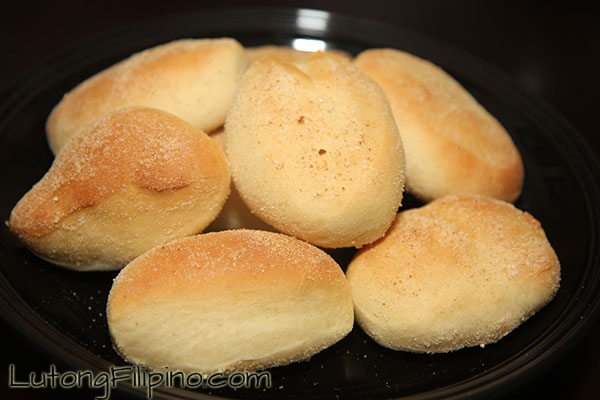 Every cuisine has its culture's take on the classic bread roll. Mexican cuisine has bolillos, Puerto Rico has pan de agua, China has bao zi. In Filipino cuisine, it's a soft and pillowy roll from Spanish-Era Philippines. Pandesal (from the Spanish pan de sal, "salt bread") is a yeast-based bread commonly used in Filipino cuisine. It originated in the 1700's during the Spanish colonization of the country. Today, it is a popular as a breakfast food, a snack, or accompaniment to any dish. Almost all bakeries and bake shops in the Philippines sell this iconic bread. It's so popular; most neighborhood bakeries sell out before 8 or 9 in the morning. It's common for bakeries to bake it both the morning and the afternoon to meet the demand.
Oftentimes, rolling stores (on the backs of bicycles or motorcycles) will sell pandesal. Traditionally, it is made with milk, butter, sugar, salt, eggs, and flour. It is kneaded into a soft, springy consistency and then left to rise. Once risen, it is kneaded again then rolled into a log. This log is then cut into pieces and each piece is rolled in breadcrumbs before baking. Contrary to its name, the resulting bread roll is relatively sweet tasting. Pandesal can be enjoyed as a simple breakfast bread (with butter, jam, jelly, or any variety of other spreads), or used in place of any traditional bun (in a sandwich, etc.) Pandesal also freezes very well – they can be stored for up to a month in a freezer bag.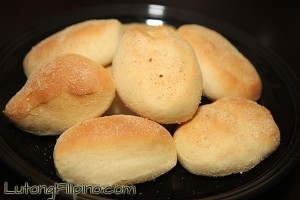 Pandesal
2015-05-29 19:18:37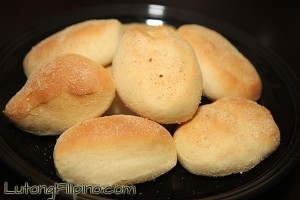 Ingredients
Yeast Mixture
1 pouch Yeast (about 2.5 teaspoons)
1 1/3 cup Milk
1 tbsp White Sugar


Bread Mixture
2-3 cups All-Purpose Flour
2 cups Bread Flour
5 tbsp Butter or Margarine, melted
2 tsp Cooking Oil
1 tsp Baking Powder
1 tsp Salt
1 Egg
2/3 cup White Sugar
½ cup Dry Bread Crumbs


Instructions
Warm milk in microwave or on stove top. Warm slightly above lukewarm to activate but not kill the yeast.
In a bowl, add yeast and 1 tablespoon of sugar. Mix until yeast and sugar are dissolved. Set bowl aside.


In a large bowl, add melted butter, sugar, egg, and salt and mix well.


Add baking powder, cooking oil, and bread flour and mix well
Mix in yeast mixture


Add all-purpose flour one cup at a time and mix well. You will need 2-3 cups total, depending on your climate. Add enough flour so the dough is not sticky (even as you knead it).
Sprinkle flour on a flat surface and knead dough for 5-7 minutes. Add more flour if dough is sticky. You can also use a stand mixer to knead if you have one.


Put dough back in the mixing bowl, cover it with a cloth or plastic wrap and let it rise to double size. Place the bowl near a heat source for a faster rise. It should take at least an hour.


Place dough on a flat surface, and divide in half, and then divide each half in half so you have 4 equal sized pieces.


Roll each piece into a long cylinder and slice into 5 – 6 equal sized pieces of individual pandesal.


Spread breadcrumbs on a plate and roll each dough piece until fully covered with breadcrumbs and place on a greased baking sheet (space out each piece so they have room to rise).


Allow dough pieces to rise for 30-45 more minutes.


Pre-heat oven to 375.
Bake pandesal for 12-15 minutes (or golden brown).
Once baked, allow pandesal to cool before eating.


Lutong Filipino http://lutongfilipino.com/
Comments