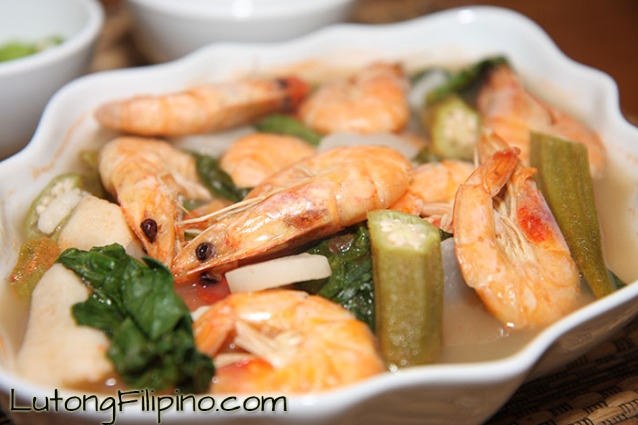 When it comes to sinigang dishes, the list would not be complete without including sinigang na hipon. It is a sour soup created from the delectable mixture of shrimps, string beans, peppers, radishes and other ingredients deemed necessary to make this dish entirely and uniquely delicious. It is often seasoned with fish sauce but in many cases – it entirely depends on your preferences as the cook.
Nonetheless, sinigang na hipon is one of the better alternatives when it comes to meat dishes during special occasions where pork meat is not allowed.
Apart from being one of the famous dishes, it is common to have sinigang na hipon served on the table if the weather is not as friendly and is raining cats and dogs. It helps warm the body and keep the comfort inside your very own home.
Preferences aside, fresh tamarind is traditionally used to give the dish its unique sour taste but today with the availability of sinigang recipe mix in the market this is only rarely used. You can even buy flavor mixes with gabi, sili and sampalok mixes. Still, nothing beats the taste of fresh tamarind. Flavor mixes may only be used in the absence of the traditional fresh flavoring.
If you are the type who doesn't mind to wait for a short while and you'd want to enjoy the rich sour taste of a soup then sinigang na hipon would be one of the best choices for you. However, you might want to be careful when boiling the shrimp because it softens easily. You might waste the entire preparation if you overcook them.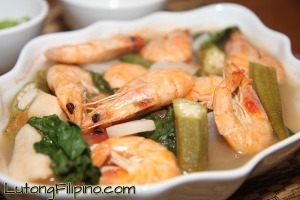 Sinigang Na Hipon
2014-12-04 15:52:51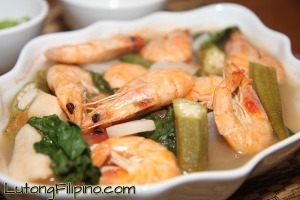 Ingredients
2 lbs shrimp, head and shell on
12 cups water
1 medium horseradish, sliced
1 medium onion, sliced
3 pieces gabi (taro), cubed
1 pack sinigang powder
2 tomato, sliced
¼ lbs. okra, sliced diagonally
1 tsp salt
5 tbsp fish sauce
1 bunch spinach


Instructions
Boil water in a large pot
Once boiling, add horseradish, onion, gabi, and sinigang powder and cook on medium heat for 15 minutes


Add tomatoes, okra, shrimp, salt, and fish sauce and cook for another 15 minutes


Add spinach and cook for two minutes


Serve hot


Lutong Filipino http://lutongfilipino.com/
Comments